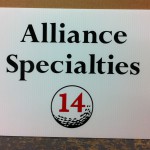 Have you just started a business? Maybe you're having a yard sale? Coroplast signs are a great inexpensive way to advertise an upcoming event. Coroplast is a corrugated plastic sheet ideal for temporary indoor and outdoor use. It is eco-friendly, being made from recycled plastic. The plastic is so lightweight; it can be used for many purposes and can be easily transported.
Coroplast is tougher than poster board, lighter than solid plastic, waterproof, weather and stain resistant. Corrugated plastic signs can be quickly and easily placed into soft ground using a wire stake.
We stock many different types of stakes, as well as different sizes and colors of Coroplast. Coroplast signs start at under $10.00 each. Stop by our showroom today and let our design team help you make your custom sign order today!
*Coroplast signs are not ideal for permanent signage.